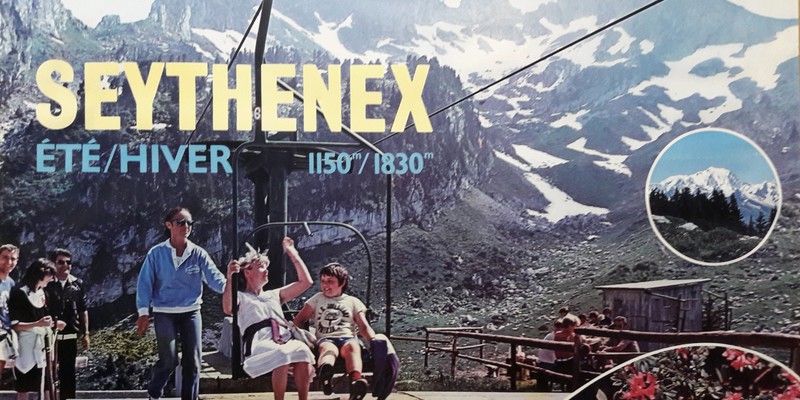 At the beginning... The Vargnoz chairlift.
Our beautiful station La Sambuy was born in 1960, thanks to the town of Seythenex. At first the chairlift "Le Vargnoz" arrived in 1962, starting from the bottom of the station at the altitude of 1150 meters all the way up to the valley of La Sambuy (1850 meters). Between 1970 and 1986, the station invested in creating two new skilifts. The actual four seats chairlift "La Sambuy" replaced "Le Vargnoz" in 1989.
The first summer-sledge came in 1991. Renovated in 2000, it was changed in 2011, replaced by the 4 seasons sledge there is now. Between 1991 and 2010 different works were done on the slopes, the snow front and the vehicles were renewed (new snow groomers, a snowmobile and quad bike) mark the evolution of la Sambuy. Once started, the station continues its progress by building the new cash register, which ended in 2013. The work on the bottom of the ski area starts back in 2015 with the creation of the new beginner skilift.
In addition, the years 2000 for La Sambuy are:
-A weather observation basis in 2002
-The acquisition of ISO 9001 in 2006.
What about the years 2010? New four seasons sledge, a new ticket office building,... The development continues, trying to innovate and always taking into consideration the environment.
Nowadays, La Sambuy is under the direct managment of Faverges-Seythenex (since the 1rst of January 2016). Its revenue over the last six years has been in average 500 k€.
Our family values, and affordable prices are very important for us. We are very proud of our natural frame, we are indeed part of the Regional Natural Park (PNR) of the Massif des Bauges, and we also offer a huge off-piste skiing area!